Profile
Free Account
Created on 2012-08-27 01:06:06 (#1711567), last updated 2017-09-02 (2 weeks ago)
34 comments received, 2,581 comments posted
12 Journal Entries, 0 Tags, 0 Memories, 14 Icons

About

Mini Bio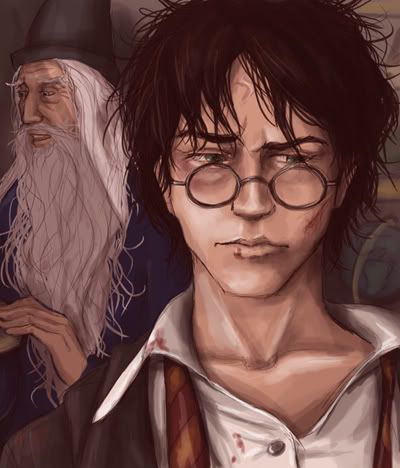 This fanart was found at
corkart and is being used with permission!
Character:
Harry James Potter
Age:
20
Appearance:
Harry is skinny with a thin face. When Harry first came to Hogwarts (when he was 11) he was considered a bit short for his age (especially when compared to Ron, who has always been very tall), but over the years he grew and can now be considered a bit tall. He wears round black-framed glasses. His hair is black and the very definition of 'unruly'; it simply 'grows all over the place'. His legs are thin with knobby knees. He has muscle tone simply from being an athlete and from fighting Voldemort, but he's not super-muscular. He's lithe. He has brilliant green eyes that he inherited from his mother though the rest of his looks are the spitting image of his father. His voice is small, except when he is yelling. He's not remarkably handsome, but he's also not unattractive. He's actually pretty average in appearance, except for the lightning shaped scar on his forehead, scars on his hand which read 'I must not tell lies', a burn scar over his heart in the shape of a locket as well as small circular scars on his arm from a magical snake bite.
Timeline:
Harry is from a year after the Battle of Hogwarts.

Connect
"saving people",
dumbledore
,
flying
,
ginny
,
hermione
,
hogwarts
,
magic
,
my friends
,
my parents
,
quidditch
,
ron
,
sirius
,
snape
,
wands

People
[View Entries]

Communities
[View entries]

Member Of (8):

Subscriptions (13):
allthisshitisweird
,
boxofmuses
,
cityofsin
,
cityofsin_logs
,
cityofsin_ooc
,
dw_maintenance
,
dw_news
,
faderift
,
faderiftooc
,
hizzouse_of_sin
,
momobox
,
themusecube
,
therookery

Administrator Of (0)

Feeds
[View Entries]

Subscriptions (0)

Linking
To link to this user, copy this code:
On Dreamwidth:
Elsewhere: